DJ Krista is Vancouver's Wedding and Events DJ, spinning tunes that'll keep you dancing all night long. With over
20,000 songs

 at her disposal – a selection that spans every decade – music requests are welcome & encouraged! As a Vancouver local, wedding dancer, cheese lover and avid Downton Abbey watcher. She prides herself on providing memorable experiences for every party!
Testimonials
Krista was a natural fit for our event - friendly and down to earth and really approachable. She took the time to learn about our complicated sport and the nuances to our event, as well as our fan demographic, she also took care to help troubleshoot a bothersome speaker, and to play songs that fit with our league's identity as a body-positive, LGBT, feminist, and family friendly, matching that with fun, upbeat music that really added to the atmosphere of our event - a comment made by both fans and skaters. Would definitely bring Krista out again! 
Stace Synkiw
Terminal City Roller Derby
DJ Krista is a fun, outgoing, consummate professional always willing to go that extra mile for the client. I had the pleasure of working with Krista several times at Chateau Cargill. Clients were always thrilled with her service.
Kat Kothlow-Fleck
General Manager, Chateau Cargill
Carleigh Sisson
Communications Coordinator, WavefrontAC
Ibrahim Samir
Graphic Designer, Hemelaya Design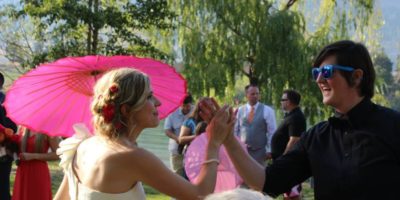 For many, their wedding is the most important day of your life. It's also likely the biggest event you'll ever be throwing. DJ Krista can provide services for both the Ceremony and the Reception to make your day prefect.
Pre-event consultations will ensure the music goes off without a hitch all while ensuring it's to your personal taste.
The tricky thing about music is everyone has a different idea for what they want for their wedding and you need to find a DJ that will work within your style and requirements.
Some couples want the traditional wedding reception music, which is fun because it's the kind of music you don't hear at clubs anymore, it's a refreshing treat to dance to all the music you, your parents and your grandparents grew up on.
Some couples want their night to be specialized to feel like they are at a club and the DJ just happens to be playing all of their favourite jams. When looking for a DJ you'll want to find someone that is versatile and can offer you exactly what you are looking for.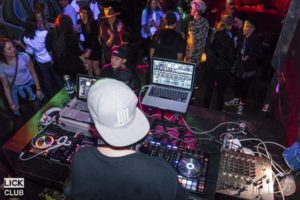 If you're looking to throw an unforgettable event look no further than DJ Krista. She takes great pride in ensuring the party stays rolling from song to song and it's her intentions to have your guests remembering your event for all the right reasons.
With years of experience DJing for various events and clubs around Vancouver, she's the perfect DJ to keep the party going until the crack of dawn.
When wedding season isn't in full swing, she djs at clubs and events in downtown Vancouver.